The feeling of change always seems to be in the air for the audio and video markets, but house of worship RARELY wish to make any changes to their auditorium systems. As someone who grew up being a church musician, I've seen my share of "volunteer-led" renovations that wasted thousands of dollars and months of time due to said volunteers being far over their head. Their hearts are usually in it, but the reality is, like baking a cake, having your "heart" does not a fully baked cake make. Nowadays, there are many new ways to outsource portions of the main service cheaply and easily, and often with a final product on par or better than what volunteers can accomplish on their own. What's more, is that there is so much control available to ebb and flow with volunteer numbers and experience, so you never have to tell new or seasoned volunteers that "we don't need you anymore."
One such service that has come to my attention is that of Live Control, an up-and-comer for remote production that is already producing amazing looking content for some of the top names in music venues. They are, essentially, a camera-operator-for-hire service that uses the power of IP video and client-provided PTZ (Pan-Tilt-Zoom) controllable cameras to produce the main service video livestream. They hire videographers from around the world to be assigned to a set of venues, so they are always familiar with the lighting, camera setup, etc. As a church needs remote production, they can purchase block hours of production time where the videographer will operate their cameras in near-real-time to the event, and then broadcast the produced event all from their proprietary Live Control hardware. They have 2 main packages available, and their main difference is the number of cameras available to the operator, output resolution, and whether there are other elements like slides or media that needs to be included in the event. This style of production allows for any house of worship to easily let a pro take control and produce a service on a case by case or permanent basis, depending on what their needs are.
The video aspect of a service, including IMAG if necessary, can be transformed into a professional looking production that remains competitive with the top names in worship. But if you've ever heard a church band on a live stream that didn't have a pro behind the mix console, this is often even worse than someone who isn't cutting video exactly right. So, what's available in this case?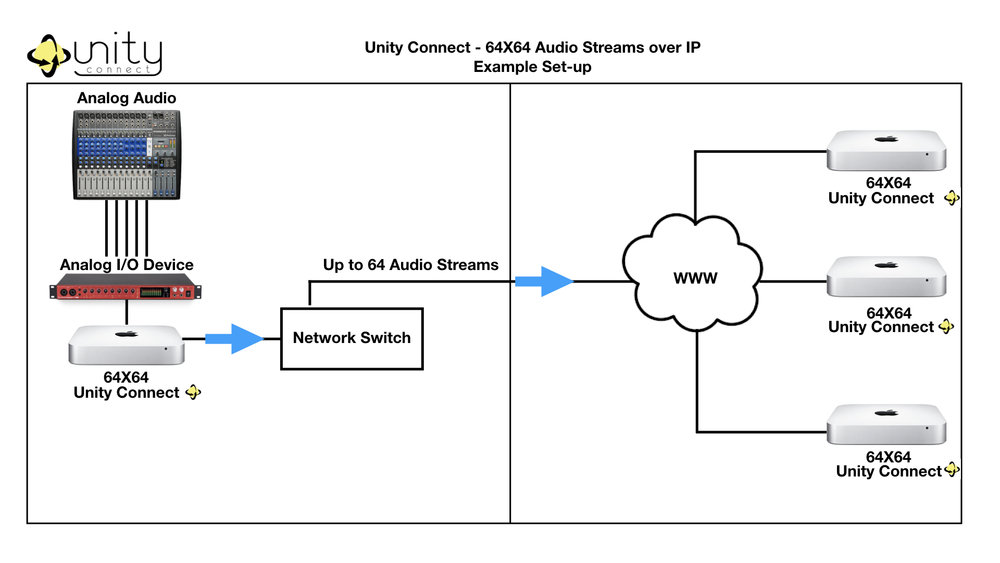 This aspect is still in flux now, but there are some options. While there are no remote audio mixing services as big as Live Control, I'm sure they will come about soon. In the meantime, products like Unity Connect allow for up to 64 channels of Dante audio to be sent at the highest possible quality over the internet. Though you would need to find an audio engineer who is more comfortable with mixing records than live sound if the house of worship want's to sound like the next Hillsong, you can still offload the difficult task of getting a church livestream to sound like a record to someone who has the ears and the gear to do it. NDI Bridge and NDI Audio Direct also opens a free and simple way of doing this as well. The workflow for either service would be as follows.
Set up your front of house mix as normal, whether through physical or Dante connections into your digital mixer.
Use the USB interface on your mixer to bring all of your live tracks in real time into a DAW (Digital Audio Workstation) running on a separate CPU. This can, again, be through Dante or physical connections into an audio interface. Or if you are using Unity Connect, run the software on a separate CPU.
This is where the split happens. If you're using Dante, connect to the remote audio engineers network via a hosted VPN like Open VPN or Hamachi. This will ensure no firewall issues between sites. If you're using NDI, ensure that a port in the 5000 range (typically 5995 or 5999) is open between sites.
Unity Connect will then allow you to connect the Dante audio from your board to the audio engineers system on their side. They are then able to pull in each individual instrument into their DAW of choice


NDI Bridge is a similar situation, but with slightly more involved. Instances of the Audio Direct plugin, a free inclusion to the NDI Tools Package are placed on each track within the DAW. The audio engineer joins the client's bridge network, and is able to add the same amount of instances of Audio Direct in empty tracks on their DAW.
In either case, the audio engineer mixes the audio, receives the main output video signal from the client, and then muxes to the mixed audio and video together and restreams a new output.
Pairing this style of remote audio production with a service like Live Control, would give a client fully scheduled and off-prem production for a main service livestream. As new volunteers arrive or as current volunteers are trained, certain parts of the flow can be adjusted to meet the client's needs. This allows for the initial issue of "We don't have anyone who can do that" to be solved with "We do now." Most houses of worship leave professional looking and sounding video streams for exactly those, professionals. But in this day and age, there are far fewer reasons that any house of worship can't design high-quality and engaging livestreams, all without having to hire full-time employees.